---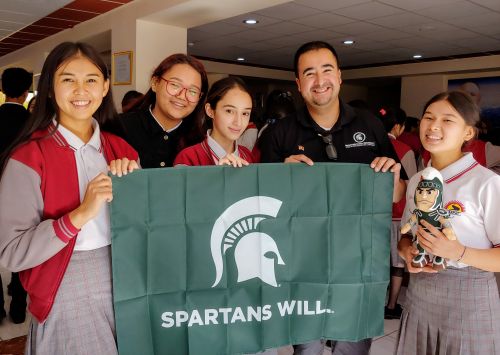 American Semester Program & Exchanges is housed within the Office for Education Abroad, focusing on inbound direct enrollment and exchange programming for international partner institutions and students. 
For students interested in working within our office, feel free to learn about our volunteer and work opportunities!

Haley Thompson
Haley is the Bilateral and Multilateral Exchanges Coordinator. She works with our MSU Exchange Partners around the globe and manages all aspects of exchange programs for inbound and outbound students. Additionally, she serves as the primary contact for all ASP student and partner inquiries.
Phone: 517-884-3509
Email: thom2030(at)msu.edu
427 N. Shaw Lane Room 108
East Lansing, MI 48824

Jade Elder
Email: elderjad(at)msu.edu
Majors: Interdisciplinary Studies in Social Science and Intercultural Communication
Minors: International Relations, Migration Studies, Sociology, Youth and Society
Activities: Social Science Scholar, University Activities Board member, Level 4 Supervisor at the University Apartments, DSAC, and Cycling
---
Lillian Gosser
Email: gosserli(at)msu.edu
Major: Food Science
Minor: Entrepreneurship
Activities: Research Assistant for CMSE department
---
Andrea Herrera
Email: herre106(at)msu.edu
Majors: World Politics and German
Activities: International Relations Organization, Culturas de las Razas Unidas, IM Soccer and Indoor Soccer. She also works at Sparty's Market.
---
Molly Hojnacki
Email: hojnack9(at)msu.eduMajor: Civil EngineeringActivities: Orchesis Dance Company, Research Assistant in the College of Engineering
---
Jorge Penalozano
Email: penaloz2(at)msu.edu
Major: Electrical Engineering
Activities: Power Electronics Research, Beach Volleyball
---
Diana Serrano
Email: serran22(at)msu.edu
Major: Social Work
Minors: Human Behavior & Social Services, Entrepreneurship
Activities: Mentor for freshmen students, employee at IM Sports West
---
Anne Straith
Email: straitha(at)msu.edu
Majors: World Politics and French, International Development
Activities: Club gymnastics
---
Mila Straskraba
Email: straskra(at)msu.edu
Major: Supply Chain Management
Activities: Supply Chain Management Association, MSU Sailing Team, MSU Intramural Sports