We recommend American Semester Program & Exchange students apply for on campus housing. It provides students the opportunity to live amongst degree seeking MSU students and scholars from around the world. Living on campus provides a traditional U.S. college experience and allows participants to connect with other students. While MSU will make every effort to accommodate all visiting students, on-campus housing cannot be guaranteed at this time.
Residing on campus puts students at the center of all that MSU has to offer: academic support, health resources, renovated residence halls, recreational activities, student organizations, leadership opportunities, friends and fun. The wide array of award-winning dining facilities allows students to choose where to eat on campus, utilizing their meal plan wherever they go.
On-campus living proves to be a smart move, too, as national research shows that students who live on campus are more academically successful and more connected to the campus community.
Visit the MSU Housing Page to learn more!
---
On-Campus Accommodations
Whether a student lives in East Neighborhood or Brody Neighborhood, they will be part of a large, expansive community of on-campus students.
Within each Neighborhood students have access to numerous services: writing centers, academic or college advising, cafeterias, health resources, recreational activities, student organizations and leadership opportunities.
See the Office of Admissions overview of MSU Neighborhoods.
American Semester Program & Exchange students who request to live on campus may be placed in one of the following based on space and availability: 
Private or single rooms
Suite-style or community style bathrooms
Placement in any one of our 5 neighborhoods
As part of the application process, our team will ask each student about their living preferences. We will do our best to accommodate requests, but we are unable to guarantee on-campus placement at this time.
Off-Campus Accommodations
Students interest in living off-campus are welcome to do so. We encourage all students to begin their search on the MSU off-campus housing website. Additionally, please review the the Tips for Off-Campus Housing document document before signing a housing lease. 
---
Dining Options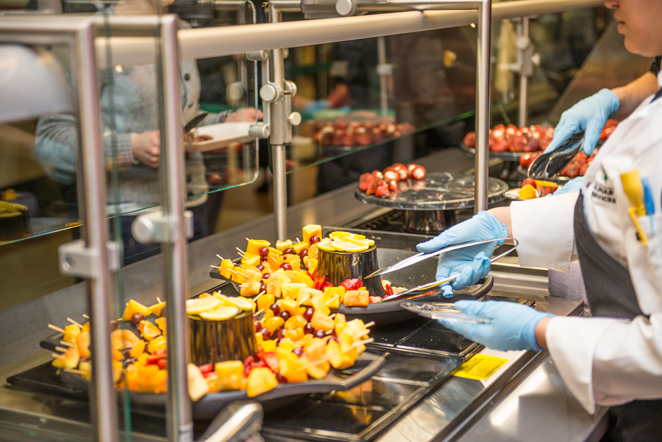 Students who live on campus are required to purchase a dining plan for their semester at MSU. The dining halls on campus offer a wide variety of food options and can accommodate many dietary needs. 
Meal plans are dictated by where you are placed on campus. Students placed in undergraduate residence halls will automatically be signed up for a Silver Dining Plan. This plan allows for unlimited meals each day that the cafeterias are open during your semester at MSU. Students placed on Owen graduate hall will not be required to purchase a meal plan, but one is available if desired. 
 For more information about housing and meal plans visit the MSU Housing page.
To view daily menus and events at the Dining Halls on campus, visit the Eat At State website.