Accepted American Semester & Exchange
Spring 2021 Arrival Date for all ASP&E Participants
January 7, 2021*

Spring 2021 Mandatory Orientation 
January 8, 2021*
 *Tentative dates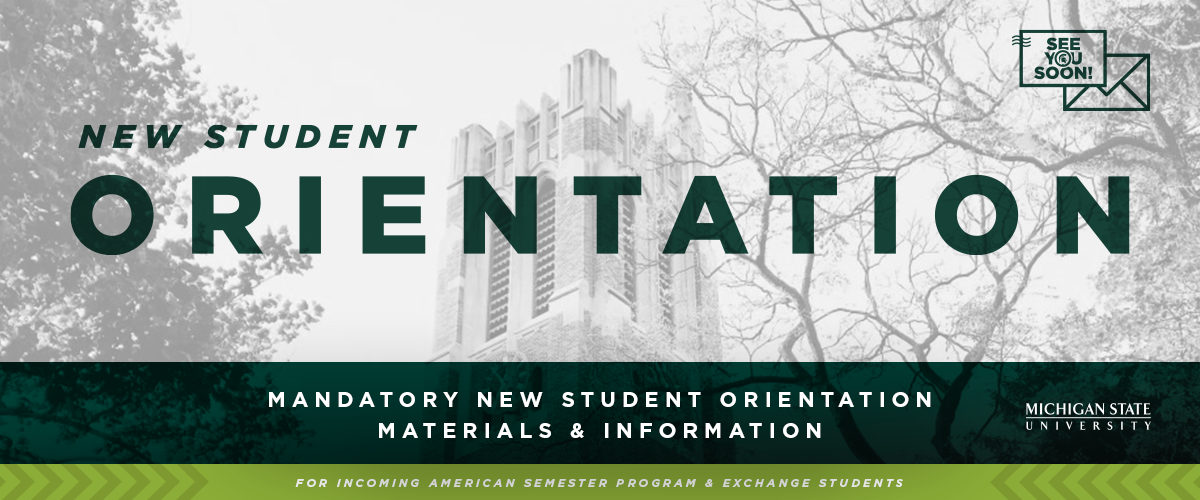 ---
You will soon be traveling to Michigan to participate in the American Semester Program (ASP) & Exchanges at Michigan State University! All of us here in the office are available to support you before, during, and after your program. If you have any concerns, big or small, please do not hesitate to contact us. We are here for you!
Before you begin your next steps, it is vital you change your NetID password, if you have not already done so. Your NetID gives you access to MSU services and resources across campus, and the University's web-based email system, Spartan Mail.
To change your NetID password, visit: netid.msu.edu
To check your MSU email, visit: mail.msu.edu
PLEASE NOTE: There are more than 7,000 international students from around the world studying at MSU, so it's easy to get incorrect information or information that simply does not relate to you. American Semester Program & Exchange students should follow information received from our office only!

Orientation is mandatory for all students (American Semester Program & Exchange) at the start of their program. It is also required for your visa status in the U.S. (J-1 or F-1). Orientation topics will include (but are not limited to):
Campus life
Academics
MSU and Michigan culture
Opportunities to meet an academic adviser
Navigating campus and a campus tour
Social events to get to know some of the American students
Spring 2021 Orientation Schedule: Click HERE to download! (PDF)
DATE: January 8, 2021 (tentative)
TIME: TBD
LOCATION: International Center Room

We have created numerous orientation modules to assist with your arrival in East Lansing, Michigan. The Visa & Arrival module is the first module you should review upon acceptance to our program. Our Course Enrollment & Registration module will help you understand course enrollments and how to access additional course-related materials and information.
The Housing & Dining Plans module will help you learn more about your on-campus housing options, what to expect, and how to prepare. The Student Accounts & Bills module will walk you through general billing information and how to pay bills at MSU.
Finally, the Health & Safety module will help you understand insurance, health, and safety for your time on campus.
These modules are here for you. It is expected you will review each module before inquiring additional information from us. If you do have further questions, do not hesitate to ask.