On-Campus Housing
Residence Hall: Owen Hall
Address: 735, E Shaw Ln, East Lansing, MI 48825
On-campus housing is available during the program dates only. All students will live in Owen Hall: learn more about the hall here.
All students will be placed in single rooms, sharing a suite style bathroom with one other person of the same gender. Rooms are furnished with a bed, desk, chair, and dresser. Bed linens, pillows, and towels are provided by the residence hall and can be exchanged for clean linens weekly. Washing machines and dryers are available for free for your use, but you must purchase your own laundry detergent. Owen Hall has several common spaces including a take-out style restaurant and convenience store, cafeteria style seating, a media room, community kitchen, study rooms, a computer lab, music practice rooms, and a large outdoor patio. Air conditioning is not available in individual rooms, but all common spaces are air-conditioned. Students are provided with box fans in their rooms.
It is possible to request another participate on an ASP Short Course as your suitemate (the person you will share a bathroom with). To request a suitemate, make sure you complete and submit your Housing Form in your Traveler Dashboard by the deadline. ASP Staff will try to accommodate your request, but cannot guarantee the request will be fulfilled.
Internet Access in Owen Hall
Wi-Fi is available in individual rooms and all common spaces, including lounges on each residence hall floor.
Owen Hall Security
Owen Hall has a service desk staffed 24-7. The staff can answer any questions residents have and can help resolve maintenance issues by contacting maintenance staff. All students are given a key to their room and an access card upon check in. Only residents can access the floor on which they live in. Owen Hall with their access card.
Amenities
Students have access to IM East, the closest fitness facility. Access is only $4 per day.
Toilet paper and trash bags are provided free of charge by Owen Hall.
Sports equipment can be checked out from the service desk.
Sparty's, the campus convenience store, is located in the lobby and accepts Spartan Cash.
It is possible to receive mail and packages delivered to the hall. Sign up with the Service Desk to receive your address before ordering anything!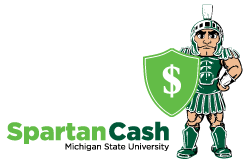 On-Campus Meals
Students are provided with a Spartan ID Card processed during orientation, which will be loaded with $260.00 of Spartan Cash.
Spartan Cash can be used to purchase meals in on-campus cafeterias: Brody Square and The Gallery (to be confirmed; at least 2 dining halls will be open during the summer months).
It can also be used at area restaurants and Sparty's locations (convenience store). A full list of establishments that accept Spartan Cash can be found here: https://spartancash.msu.edu/locations
The following meals are provided in the program fee:
Orientation breakfast and lunch
BBQ lunch
Graduation dinner