American Semester Program Short Courses are 3 week courses taught by MSU faculty, designed for undergraduate students from outside of the United States. Hear what our past participants have to say about their experiences!
---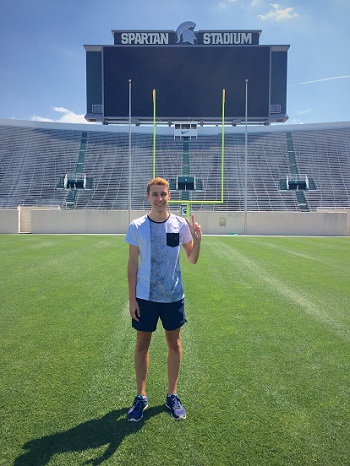 "I don't really know how best to summarize what ... I should say except that ASP was truly an amazing experience and made a profound impact upon my life. This trip was more than an educational and cultural program, it was an experience that helped me learn more about myself personally and what I hope to achieve through my studies and life.
I didn't know what to expect coming into MSU, but I was blown away by the program, the trips, the classes, the campus itself, all the activities and basically everything else I havent mentioned. It's clear you and your team put in the hours to organise such an event, and I cannot begin to thank you for it. You also chose an amazing bunch of ambassadors and stewards, they actually made the trip great."
Fraser Johnson
University of Queensland
Social Media for Business & Digital Marketing, July 2016
Click here to check out Fraser's "Top 10" from his time on an ASP Short Course for an insiders look, and some advice, for your upcoming Short Course experience.
---
"The whole experience was amazing. It was a really busy 3 weeks, but I feel I walked away with new friends, new knowledge, and new memories that I will never forget. It was truly life changing for me. "
Participant
University of Western Australia
Social Media for Business & Digital Marketing, July 2016
---
"[The highlight of my experience was] the opportunity to study within a level American college with the support of academics and MSU support staff always willing to help. The weekend excursions were a highly appreciated addition to the experience."
Participant
University of Adelaide
International Litigation & Arbitration, July 2016
---
"The MSU ASP program brought together open-minded, intelligent, passionate, enthusiastic and compassionate individuals from all over the world to make a great program that accommodates for all students. Whether it's the US, or Michigan, or even just East Lansing, I really don't think we could have been given a better treatment if you tried. We were shown such a special part of the world by such special people, and you have created an amazing experience for so many people, who are now going to spread that experience far and wide."
Participant
Griffith University
Social Media for Business & Digital Marketing, July 2016